Thanksgiving Day - Thank you for coming all the way!
---
  Thursday, November 25, 2021, is not only an ordinary working day, but also an unusual day. Today is Thanksgiving Day! Speaking of Thanksgiving, the most important thing is its significance.
  Thanksgiving Day, a traditional western festival, is an original festival created by the American people and also a holiday for Americans to gather together. At the beginning, there was no fixed date for Thanksgiving, which was temporarily decided by the states in the United States. It was not until 1863, after the independence of the United States, that President Lincoln declared Thanksgiving a national holiday. In 1941, the United States Congress officially designated the fourth Thursday in November as "Thanksgiving Day". The Thanksgiving holiday usually lasts from Thursday to Sunday.
  In 1879, the Canadian Parliament declared that November 6 was Thanksgiving Day and a national holiday. In the following years, the date of Thanksgiving Day changed many times, until January 31, 1957, the Canadian Parliament declared the second Monday in October as Thanksgiving Day.
  In addition to the United States, Canada, Egypt, Greece and other countries in the world have their own unique Thanksgiving Day, but the United Kingdom, France and other European countries are isolated from Thanksgiving Day. Some scholars also proposed to establish a "Chinese Thanksgiving Day" to promote traditional culture.
  As far as the meaning and celebration of Thanksgiving Day is concerned, there has been little change since 1621. On this day, churches of all denominations are open to express gratitude for God's generous gifts.
  Thanksgiving Day is a family holiday. All over the country, husbands and wives, children and the elderly, from the city to the town, from the town to the village, from the village to the village, all return to their hometown to spend the holiday together. Those who can't return home also make long-distance calls to talk with their parents and families and share their gratitude. Thanksgiving dinner is virtually the same across the country. The table is always filled with all kinds of delicious food. Naturally, it is mainly turkey. Eating pumpkin pie is a gift that the Indians gave to the first group of settlers.
  In most families, traditional games are played after meals. Thanksgiving is a happy celebration, a day of family reunion, and a time to renew friendship. On that day, even single people are always invited to other people's homes to share the joy of gratitude and thank God for his grace. This is also the meaning of Thanksgiving.
  In this grateful day, Dawei Environmental Protection would like to say to all loyal customers, competitive peers and suppliers who have dealt with us, thank you! Go all the way! In order to give back the support of our customers, any product you order today will have a real Thanksgiving discount!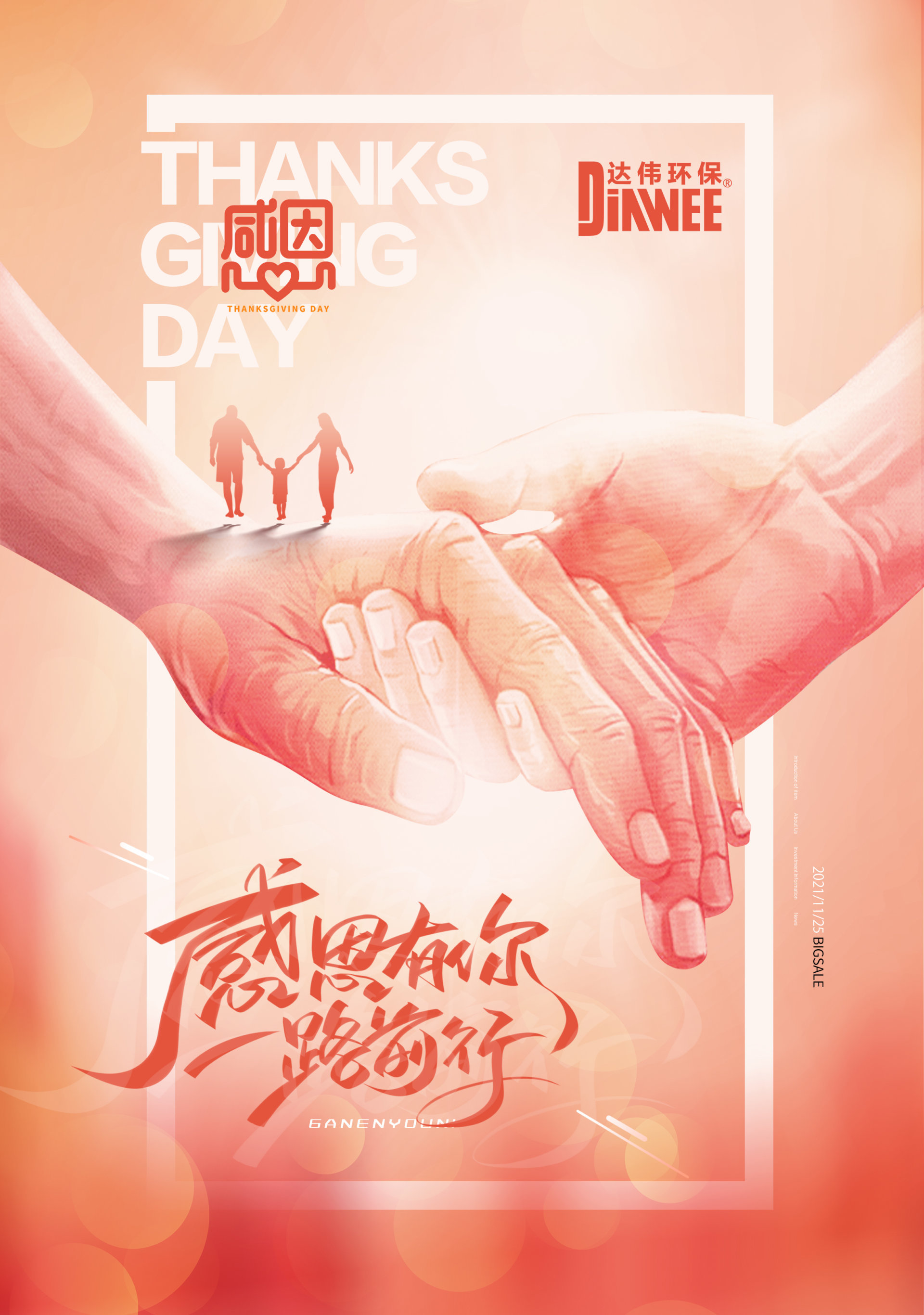 ---
---
Latest News