[Plastic wastewater] Application of Dawei environmental protection screw folding machine in plastic granulation sludge wastewater
---
Plastic can be seen everywhere in our life, and seems to have become an indispensable part. Common plastics in daily life include supermarket shopping bags, packaging bags, toys, stationery, plastic shoes, vehicle bumpers, beverage bottles, plastic bottles, plastic boxes, plastic barrels, agricultural mulch, etc.
Most plastic products are discarded at will after use, causing serious pollution to the natural environment. And the plastic can stay in the nature for 200-400 years. Even the environment-friendly degradable plastic bags used in large supermarkets can be kept in the nature for at least ten years. In order to reduce this "white pollution", in addition to reducing the use of disposable plastic products, plastics can be recycled, remanufactured and reused. Plastic granulation is a process of plastic machining.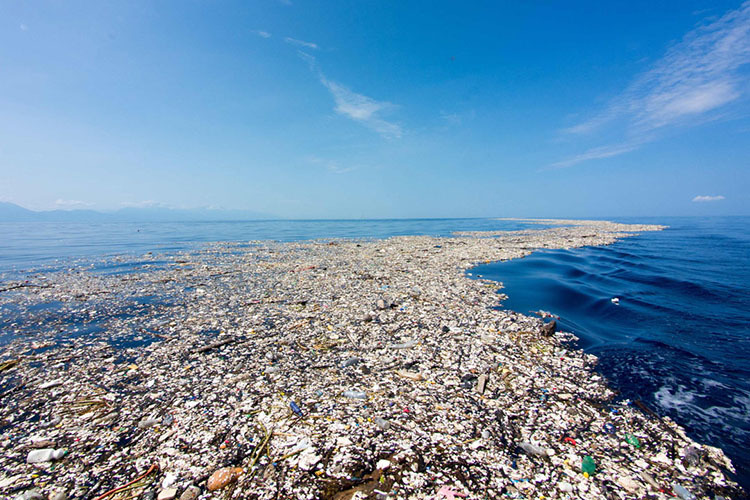 Plastic granules are widely sold, and can be used to manufacture various buckets, toys, furniture, stationery, clothing, buttons and other living appliances in daily life; Building materials can be used to manufacture various building tools, doors and windows; In agriculture, it can be used to make agricultural film. With less investment, short payback period, quick return and rich profits in the production chain of recycled plastic granulation, many plastic granulation plants were born under the support of national tax preferential policies and loan preferential policies. The following waste water from plastic granulation has become a concern for environmental protection. Let's take a look at the application of Dawei environmental protection screw folding machine in plastic granulation wastewater.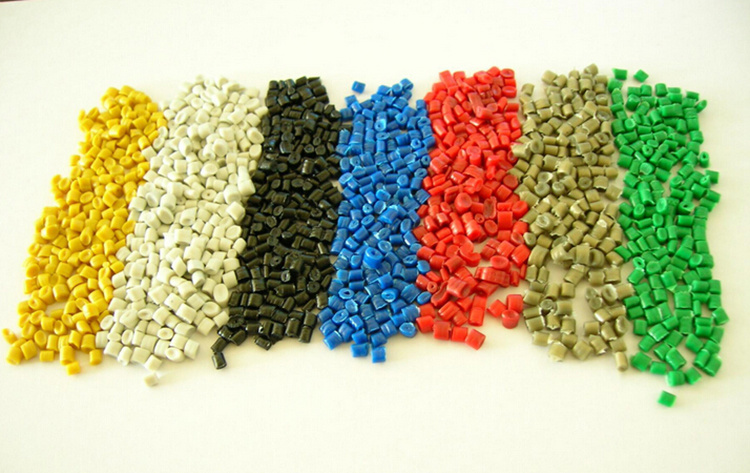 Working principle of the screw type sludge dehydrator: the screw type sludge dehydrator is specially designed for handling low concentration sludge and oily sludge. It follows the principles of force and water in the same direction, thin layer dewatering, proper pressure application and extended dewatering path. It solves the technical problems of previous generations of sludge dewatering equipment, such as easy blockage, inability to handle low concentration sludge and oily sludge, high energy consumption, and complex operation, and achieves the goal of high-efficiency and energy-saving dewatering.
When the equipment is running, the sludge enters the filter cartridge from the feeding port and is pushed to the discharge port by the spiral shaft blades. As the screw pitch between the spiral shaft blades gradually decreases, the pressure on the sludge also increases, and the sludge begins to dehydrate under the effect of differential pressure. The water is self-cleaning between the fixed ring and the movable ring, and the filtering gap is cleaned to prevent blockage, The mud cake is fully dehydrated and discharged from the discharge port under the propulsion of the spiral shaft.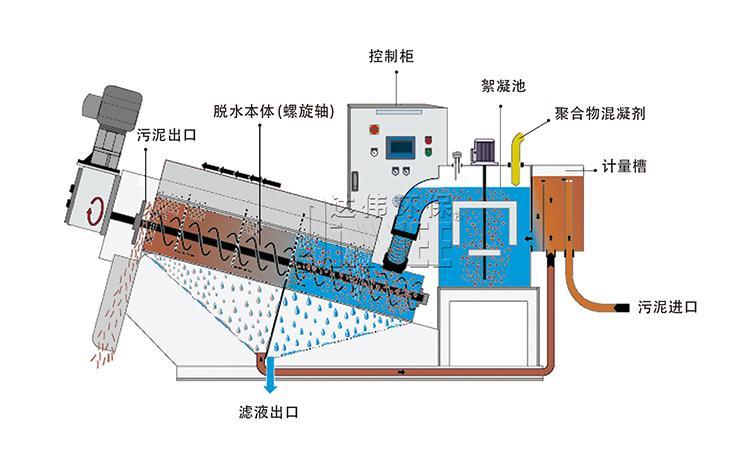 Let's take a look at the sludge treatment process of plastic granulation wastewater: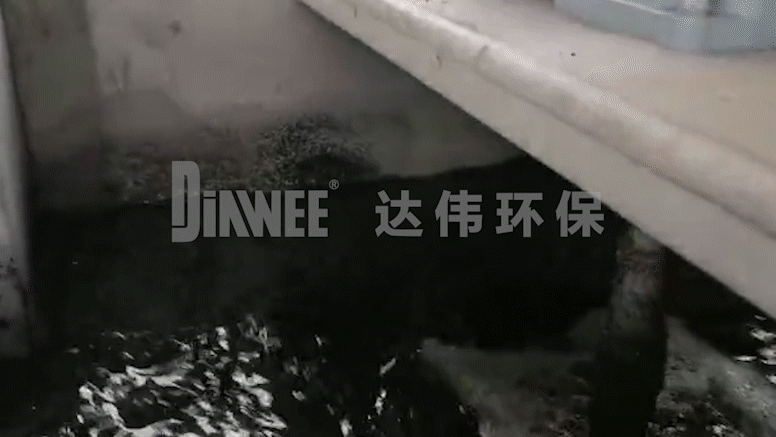 (Sludge discharge)
Actual case application site:
Taizhou Jiangyan XX Plastic Products Factory:
Customer industry: plastic granulation wastewater
Nature of sludge: raw sludge
Equipment model: screw folding machine DW-301, dosing device DWP-2-500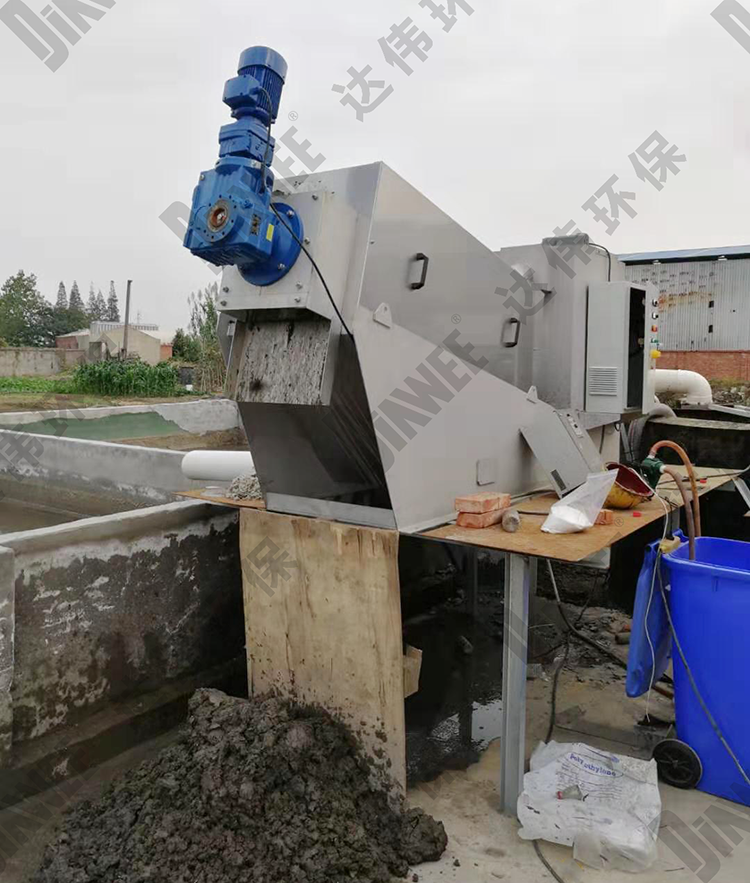 Anhui Fuyang XX New Material Co., Ltd.:
Customer industry: plastic granulation wastewater
Sludge property: biochemical sludge
Equipment model: screw folding machine DW-302, screw folding machine DW-304, dosing device DWP-3-1000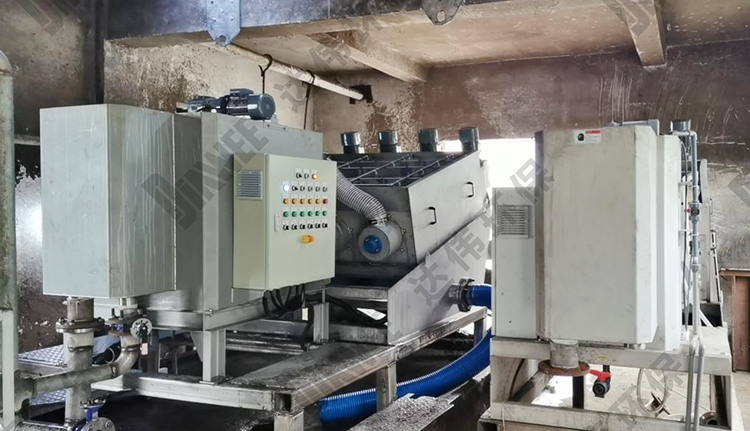 ---
---
Latest News